General information and fee schedule
How do I use the CPA Promo?
When you are making a transaction, select your CPA Promo where indicated in the shopping cart.

Consult the list of your non-refundable purchases and your balance of PDC in your file, on the CPA Promo management and history page.

In the case of a cancellation during the season, by you or the Order, PDC equivalent to the value of the cancelled training activity will be added to your CPA Promo1, 2 account.

The CPA Promo is not transferable to another CPA.

At the end of the period of use of the CPA Promo (August 31), up to 525 unused PDC are transferable and automatically added to your account when a new CPA Promo for the following season is activated.
NOTES
Once the CPA Promo is activated, à la carte purchases for products comprising the balance of $1,200 between July 16 and September 15 or $1,300 as of September 16 are non-refundable and non-transferable to another person.
Terms and conditions governing a registration to a training activity or an à la carte purchase of a tool apply for all the transactions made with the CPA Promo. Some exceptions apply.




---
What is the fee schedule for an à la carte
registration or a registration using the CPA Promo?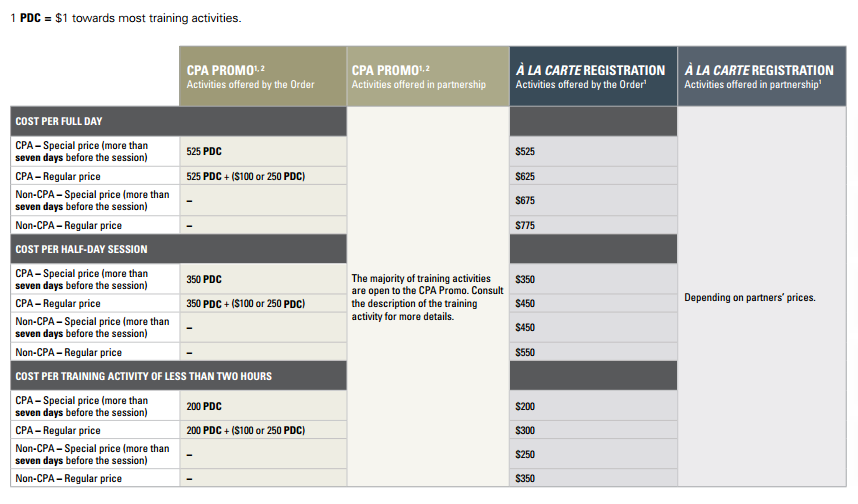 Taxes not included.




The participant using a CPA Promo who, in the seven days preceding the session or on the day of the session, cancels or modifies his choice of session (without exception, even due to bad weather or illness, provided the Order holds the session as scheduled) cannot recover his professional development credits.