General information and fee schedule
How do I register for a training activity? [+]
What are the registration fees for the training activities offered in the 2016-2017 season? [+]
---
How do I register for a training activity?
Consult the Find a training activity page to make your choice, or if you already know the number of the session which interests you, register now. You can register using a passport, your CPA Promo or à la carte.
If a session is full, you can choose a new session or register on the waiting list. Our team rigorously analyzes and keeps track of waiting lists every week. We will contact you if a seat becomes available. Moreover, we will not hesitate to add new sessions or increase the number of available places if the demand is sufficient.
View the terms and conditions for more information.
What are the registration fees for training activities?
The following tables show how prices are established for training activities: in professional development credits (PDC) for registrations using a Corporate passport or a CPA Promo, and in dollars for à la carte registrations.
2016-2017 season
Fee schedule - Corporate passports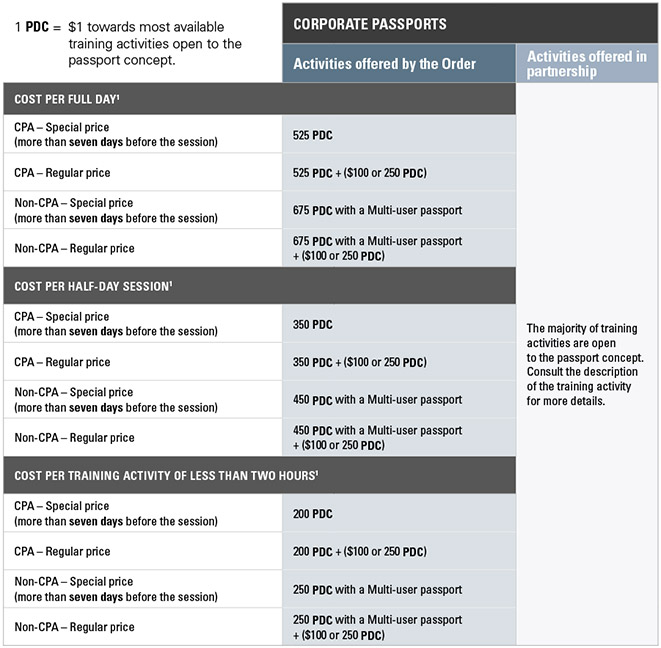 Taxes not included.
Fee schedule - CPA Promo and à la carte registrations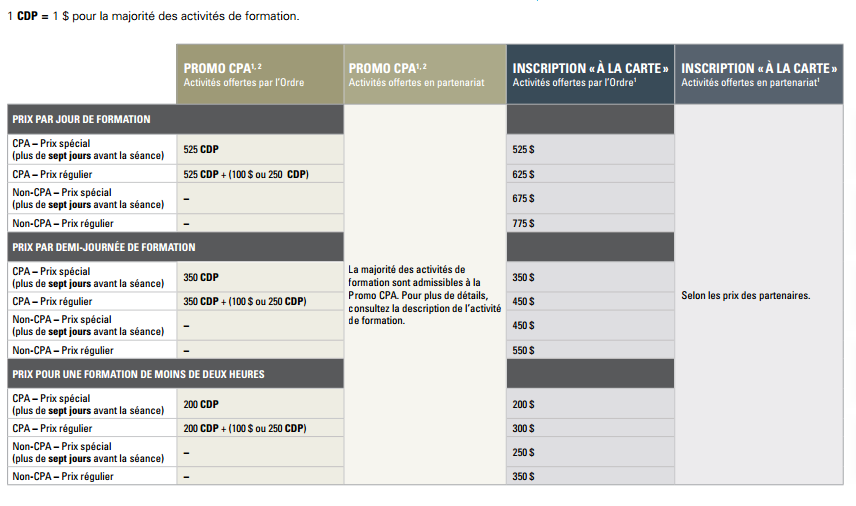 Taxes not included.




The participant using a CPA Promo who, in the seven days preceding the session or on the day of the session, cancels or modifies his choice of session (without exception, even due to bad weather or illness, provided the Order holds the session as scheduled) cannot recover his professional development credits.



Agreements between the Order and its partners allow registration to activities using a passport, the CPA Promo, or
à la carte
. Unlike the Order's fee schedule, the partners' prices vary depending on the format or duration of the activity.
For the registration fee to a particular activity, whether it is offered by the Order or in partnership, please see the description of said activity.