The culture of change
To survive, organizations have to innovate. How do you establish a culture of innovation?
What is your role as a CPA in the digital transformation?
In this "Enter the New Age" video, CPAs talk to you about the culture of change.
(In French, English subtitles available).
ENTER THE NEW AGE: CHALLENGES AND OPPORTUNITIES
Innovation is not just about technology. It is also about strategy. It may even require you to rethink an organization's structure. Time and resources have to be dedicated to these efforts. To help you better prepare, here is an overview of the main challenges that the digital age poses for CPAs and their organizations, as well as some opportunities worth taking.
A changing profession: Automation, redefined expectations and collaboration
Automation of some of the profession's services
Although technological innovation often leads to efficiency gains, a number of roles and functions that were once the traditional preserve of CPAs are poised to be replaced by automation.
Bookkeeping, month-end closing, tax filing and financial reporting are some of the tasks that could be partially or entirely automated. Software is now generally available — and affordable.
More complex tasks requiring judgment, like processing and interpreting large volumes of data, can also be performed in mere seconds by powerful software already available on the market, sometimes even for free.

Automation may be competing with or even replacing some CPA tasks, but it can also help you optimize processes, diversify your service offering and expand your client base.
Focus on the human side of your responsibilities: advice, listening and agility. Your relationship with your employer, colleagues or clients is all-important.

Move away from routine and clerical tasks or automate certain processes yourself, and spend more time on value-added work, such as that requiring professional judgment.

Leverage technology to become a more sophisticated, competent and productive internal or external advisor.

Optimize your time: adopt automation solutions and explain them to your employer and clients. This will set you apart as a change agent.
Evolving client expectations
Companies like Google process dozens of petabytes daily. So what's a petabyte? It's 1,000,000,000,000,000 bytes.1 With the arrival of Big Data, new needs are emerging and changing what is expected of CPAs.
Regardless of your area of practice, you hold a significant amount of data on your organization, your internal or external clients, and their activities. Information security and integrity have always been critical for CPAs, but clients are more concerned than ever about privacy. You are expected to be able to assess the importance of an organization's information assets, and you are also expected to protect them.
The data you hold must be used wisely. It can be used not only to predict the future financing or purchasing needs of your collaborators, but also to forecast slow periods. You are expected to be key advisors who can analyze data in real time, prepare forecasts and consider the enterprise's different functions to make the best business decisions.
More and more, decision makers are basing their decisions not only on traditional financial data, but also on other indicators of value, such as social and environmental information.
You know your market, and understand how your organization and its clients currently measure value. Consider the impacts of the digital age on upcoming changes to performance indicators, such as the value of intangible assets, brand value, environmental responsibility and social capital.
More than ever, financial data has to be interwoven with non-financial data.

As a CPA, you handle large amounts of data: your role will evolve into that of a specialist in both financial and non-financial data analytics.
Consider using diversified sources of information to support your strategic thinking: make decisions outside the box.
Enhance your role by relying on professionals with complementary expertise.
Strengthen your advisory role by better understanding the expectations of different stakeholders.
Automate the production of simple reports and enhance your forecasting models, as this will enable you to provide value-added information for decision-making.
Personalize the client experience by leveraging data.
Make sure you regularly assess whether the expectations of your colleagues, clients and business partners have evolved.

1 Le Big data en chiffres : la révolution des mégadonnées, L'actualité, April 6, 2018.
Increased collaboration with specialists
CPAs may be data leaders, but other leading-edge professionals are well positioned in related areas of expertise and interested in the infinite possibilities of the digital age.
The speed of change makes it hard to upgrade skills in every relevant area, so team up with seasoned partners in other disciplines and combine your expertise to make the best business decisions. Collaboration has always been a core competency for CPAs, so be sure to foster a collaborative environment with your colleagues.

Position yourself as an agent of collaboration by fostering dialogue and information sharing as a way to drive better decision-making and excellence.
Find partners to create a digital ecosystem around your organization.
Review the profile of those with whom you exchange ideas: look for skills that complement or differ from yours to enhance your discussions.
Build a team with varied work experience — this diversity will broaden your scope for action.
Stay current: you can't be an expert on everything, but you can provide input and explain certain concepts to decision makers.
Misalignment between the services CPAs offer and new business models
The changes associated with the digital age are forcing organizations to adapt their business models. Organizations are more demanding and expect customized services that create value and are powered by technological innovation. Regulatory requirements are no longer sufficient to justify substantial investment if the services offered have no intrinsic value for the organization.
Emerging new business models are putting pressure on CPAs to upgrade their service offering and ensure they create the value their clients and employers expect.
If you think that your practice area, whatever it may be, will not change because it's been the same for years, or that your revenue-generating activities are safe, guaranteed or even reserved to you, think again. The question is not whether your operations are going to change, but rather by how much.
In this context, you have to continually reinvent yourself and offer services adapted to the new business landscape.
A 2014 Sleeter Group survey of 500 organizations highlighted the following gap between what SMEs need and what accountants are offering:
85% of SMEs surveyed wanted strategic advice from their accountants, but only 25% said they were getting it.
33% were not sure if accountants were able to stay current on market trends, and only 13% perceived accountants as being ahead of the curve.
Do you think things have improved since 2014? It's up to you to reverse the trend.
Source: The Sleeter Group – What SMBs Want from Their CPA (2014)

Now is the time to review and upgrade your service offering to meet the needs of organizations and their new business models, and ensure that you have the competencies needed to stay current in the digital age.
Analyze your current sources of income and identify the ones that are growing. Identify resources assigned to declining activities and assess whether they can be reassigned to other areas.
Review your "safe" services, the ones you don't question.
Determine areas where you personally contribute to the organization's success. Is your expertise used in a growing, mature or declining area? How are you planning to change your activities to replace those in decline?
Develop expertise based on in-depth knowledge of the digital ecosystem and an understanding of the new mechanisms related to digital finance.
Leverage the potential of data to personalize the client experience and develop business intelligence.
Turn data analytics into a competitive advantage for your organization.
WORK TOOLS AND METHODS: TECHNOLOGICAL CHANGE AND DATA PROTECTION
Inadequate technological solutions and incomplete digital ecosystem
Not all technologies develop at the same pace. The speed at which they appear on the market, the skills needed to use them and the fact that some still need fine-tuning can hinder their adoption.
Some organizations, reluctant to take the leap or lacking the resources needed to update their practices, still do part of their business using obsolete technology or no technology at all.
You have a reputation as trusted advisors and your role is enhanced when you leverage advanced technology. In the face of developing and emerging technologies, you can harness the potential of innovation to guide your organization's business decisions and assess business risk.
Reasons for delays in upgrading organizations' digital ecosystems:
The investments required to acquire and deploy new technologies as well as provide training may be too high.
Even if organizations or firms have the means, the return on investment is not always easy to quantify or recoverable in the short term.
Past projects have not always yielded the expected results. If an organization went through a technological change that took longer or cost more than planned, decision makers may be hesitant to undertake change.

Foster team creativity by giving teams and employees permission to fail.
Identify sectors that are more ready and try an innovative project. You can parlay smaller-scale successes into bigger projects.
Don't hesitate to support pilot projects to narrow down innovation initiatives while remaining open to novelty. The outcome of a pilot project can often be easier to identify. As they say, "fail fast, small and cheap."
Position yourself as a change agent, an advisor who stays current on key trends.
Take the changing digital ecosystem as an opportunity to review your business processes, optimize your operations and develop new niches.
Open the door to innovative solutions like cloud computing that facilitate file sharing and storage.
Consider implementing workplace collaboration tools, like instant messaging or videoconferencing. These simple tools improve internal collaboration, demystify the use of new technologies and facilitate greater information sharing.
Accelerating rate of technological change
New technologies are transforming our society and prompting professionals to innovate in order to stay competitive. CPAs must anticipate future market transformations and hone their expertise ahead of these changes, as well as know how to use the technological tools that are already part of their environment.
Keeping abreast of every advance in technology is not realistic: this is the direct consequence of the increased speed of innovation. As a CPA, however, you are used to staying current in your sphere of action. Don't let the gap between your expertise and innovation widen.
Academic curriculum and continuing education
Technological skills have been added to the curriculum of future CPAs and the CPA professional development program. Still, new technologies are changing at breakneck speed and it can be difficult to keep your knowledge current. You have to learn, unlearn and relearn if you want to stay ahead of the curve in your organization.

Training should no longer be an occasional event, but a continuous reflex. Traditional "training days" are only one way to keep your skills up to date.
Be fully knowledgeable of the innovative initiatives related to your industry.
Set aside some time to read a new blog, a different section of the newspaper or an article on innovation, even if it is not directly related to your field. You may get inspired to make changes in your environment.
Attend events, meet specialists and become an expert yourself in certain areas. Narrow the gap between innovation and you.
Consult unusual sources of information that provide fresh insight on the potential of technology. How can you use these opportunities in your own tasks?
Start discussions with your colleagues. The key to your own success lies in partnering with other professionals to ensure your projects come to fruition.
Cyber risk and cybersecurity mechanisms
Recent incidents in Quebec have highlighted the public's privacy concerns. In addition to the usual threats of identity theft, Canadian businesses — from SMEs to multinationals — are now the target of cyberattacks. As a CPA, you play a critical role in protecting both financial and non-financial information. In your role as information custodian, you must take advantage of all the tools available, including new technological solutions, and stay on the leading edge of best practices in information security.
Consult the CPA guide on best practices in IT use to assess whether your practices are current.
The disconnect between CPAs' technological environments (both their work and social environments) and their expertise and ability to protect the information entrusted to them has various effects:
Ethical risk and possibility of breaching the duty of confidentiality
Inability to identify at-risk situations
Difficulty assessing the reliability of evidence
Incomplete understanding of their clients' business environments
Reputational risk for CPAs and their organizations

Because they hold huge amounts of data that may be threatened by cyberattacks or leaks, organizations have to take effective precautions against cybersecurity risks. As a CPA, you are well positioned to understand these risks and propose mitigation solutions. You can choose to be an expert not only on how to add value to data, but also on how to protect it.
Do you know which information security measures are currently in place in your organization?
Does your organization have financial and non-financial data management and protection policies in place?
If so, do they consider the most recent data theft or corruption risks? The most recent protection tools?
If your organization does not have a policy, should this be your responsibility?
Define how financial and non-financial data should be collected, secured and used: assume the role of data controller.
In the words of CPA Thomas-Louis Lafleur, who participated in our Enter the New Age video, there are three good reasons for going digital:
Many of your clients and collaborators are already doing it and expect you to do the same.
The competition is doing it, and so are your fellow CPAs.
The next generation expects you to have already begun your digital transformation and have high-performance tools available for them to use. It will be hard to keep young professionals working for you if your business practices are outdated!
Whether you do so to stay competitive, be more productive, or attract young talent, now is the time to begin a digital transformation.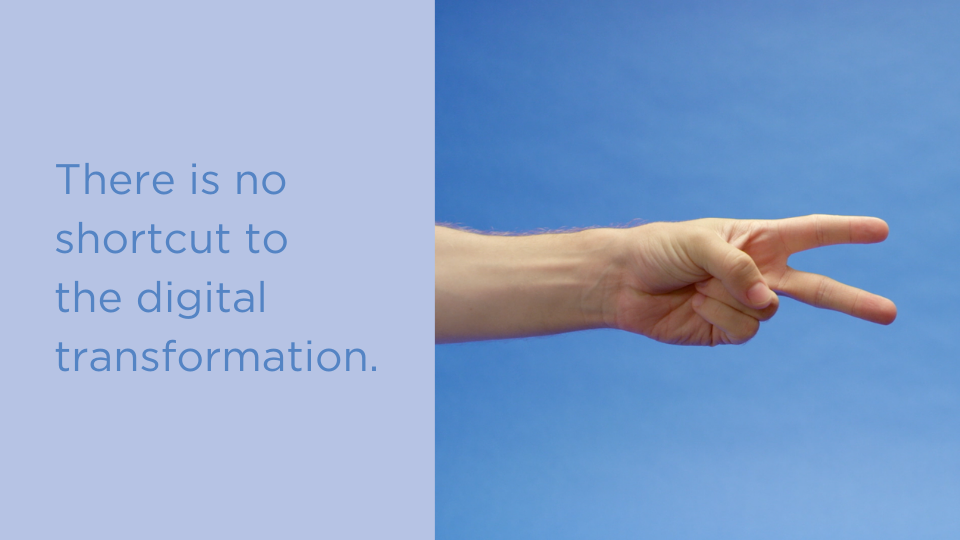 Before you start, CPA Marie Cayer recommends that you first plan your strategy to find out where your organization wants to go. Otherwise, your efforts will be useless. Ask the right questions to come up with your action plan, audit your practices, create new processes, and set up efficient systems to reach your business objectives. A digital transformation is first and foremost a strategic transformation.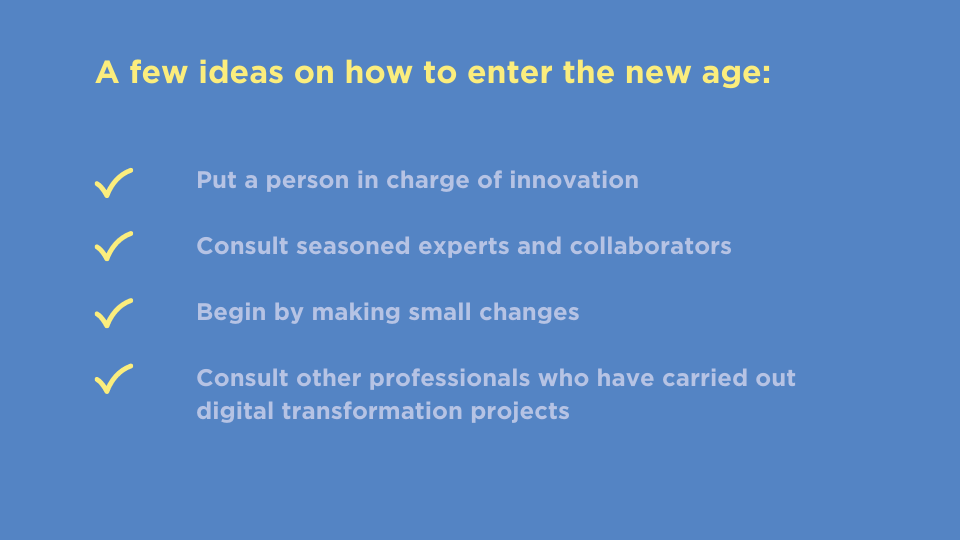 And you, what are you doing to encourage a culture of change in your organization? Because it starts with you!