CPA: three letters that stand out
Being a Chartered Professional Accountant (CPA) is much more than counting numbers! By becoming a CPA, you choose a rewarding, exciting and very credible profession that will give you access to key positions in the business world: business owner, financial manager, manager, financial analyst… A world of opportunity awaits you! Your decision-making skills will make you a reference in all organizations and a leader in economic development.
DO YOU FIT THE PROFILE?
If you want to…
Be a leader at the very highest levels of business
Be part of a respected and influential community that is experiencing tremendous growth
Travel the world in search of new challenges

Exercise your leadership
… then the unique CPA professional accounting designation is for you.
Promising opportunities
CPA competencies are in high demand in organizations of all sizes, across virtually every sector of the economy, including high tech, the arts, sports and finance. In fact, the placement rate for CPAs is close to 100%. Currently 75% of the Quebec CPA Order membership is active in businesses, while the other 25% works in public practice.
Harness your potential
Right from the start, future CPAs can earn higher salaries, which can include a wide range of employee benefits, performance bonuses or even the reimbursement of certain business expenses, such as smartphones, tablets, laptops, gym memberships and travel.
What's more, students who choose the CPA profession are highly sought after by recruiters and will easily find internship opportunities in industry or public practice. The value of the CPA designation translates into average annual earnings of $121,000, and most CPAs enjoy flexible work schedules.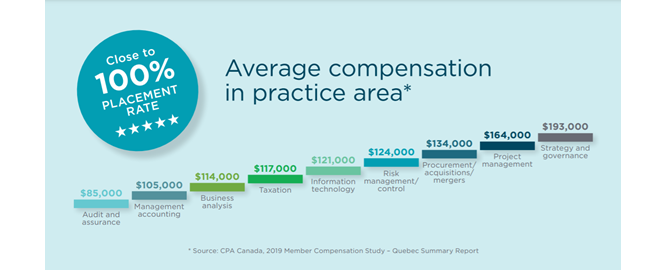 Video - Learn more about the path to the CPA designation >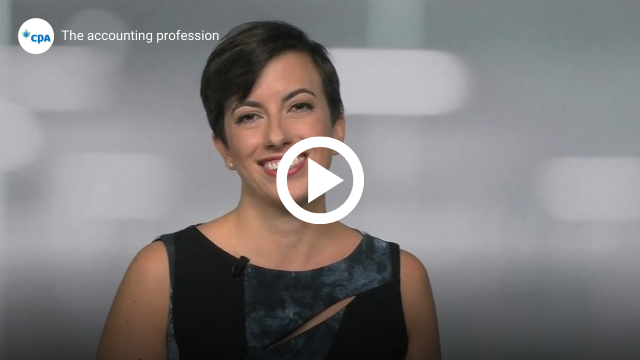 Consult our brochures for more information:
See what candidates and young CPAs have to say about the profession! (in French only)
A supervised profession
In Quebec's professional system, CPAs practice an exclusive, regulated profession, which means that no one can claim to be a chartered professional accountant or use the designation or its abbreviation if they are not a member of the Ordre des comptables professionnels agréés du Québec.
Learn more about the laws and regulations governing access to the CPA profession and the practice thereof, as well as the ethical obligations that apply to candidates.
Scholarships to ensure your success
Every year, a number of scholarships are awarded to students for their academic excellence and their school and after-school involvement. Learn how the Foundation of Quebec CPAs can help.
Questions?
T. 514 982.4606 1 800 363.4688
candidatCPA@cpaquebec.ca