Mélissa Benoit, a multidisciplinary globetrotter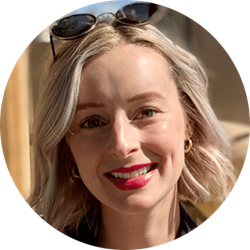 Mélissa began her professional career as an external auditor at a firm where she stayed for about 5 years. While there, she had an opportunity to work in London, England, an experience she loved!
When she returned to Quebec, she decided to work for an SME where she held the position of finance director for around 3 years. Just recently, she joined the Caisse de dépôt et placement du Québec (CDPQ) where she works in the area of financial planning and analysis (FP&A). She manages a team with varied profiles whose main job is to provide the Caisse's different divisions with timely financial information, which is then used as a performance measurement tool and as input for strategic decision-making.
A wellness enthusiast, she loves the outdoors, cycling and yoga. When she isn't in front of a screen, she is planning her next travel destinations and working out the budget and itinerary in Excel!
Why did you decide to obtain the CPA designation?
"It's recognized around the world; the designation has not only allowed me to acquire a mix of competencies, but also helped me better understand the business world.
It has also given me an opportunity to work in different fields and opened the doors to work experiences abroad. For me, the decision to obtain this designation was a decision to work with a fully stocked 'toolbox.'"
Firm or SME: What are the differences based on your experience?
Firm: more "micro" management, more specialized teams, very structured work, a performance culture where professional development is encouraged.
SME: more "macro" management, creativity and flexibility are necessary, learning is done on the job, limited resources: You need to be a problem solver, and when you are in close proximity to senior management, you are involved in strategic decisions.
If you had advice to give, what would it be?
"You have to continuously reinvent yourself and must never stop learning! In my experience, I quickly understood that the CPA profession was constantly changing, and to keep up, I had to develop intellectual curiosity.
Watch for the right opportunities to seize and don't be afraid to leave your comfort zone. In the long run, you realize that your experiences are what really make you grow as a professional."
* Information valid at the time of interview