Ariane Villemure: Everything you wanted to know about Quebec's 2020 CFE gold medallist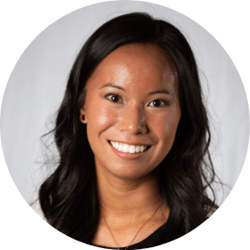 On November 27, 2020, Ariane Villemure learned that she was the 2020 CFE gold medallist.
In an interview, she agreed to tell us a little bit about herself and share some of her tips on preparing for the CFE in such unusual circumstances.
Portrait of a dynamic and committed future CPA
Her reaction when she found out her standing
"When I received the call from the Order's Vice-President of Qualification and Professional Development, I was pretty much speechless and I don't think I immediately understood what was happening. I was really touched and very happy to know that all the efforts I made to prepare for the exam had yielded results."
Why become a CPA?
"Actually, I wasn't really sure which career path I would choose at first. I always liked math and numbers in general. I took an accounting course at CEGEP and that's when it clicked. I enrolled in a bachelor of accounting sciences programme at UQTR and that's where I realized that my true path was in accounting."
A multi-talented future CPA
"My proudest accomplishment during the programme is that I participated in a range of activities but still got good grades. During my studies, I participated in several university competitions, did a mentorship, led problem solving sessions to help other students, and participated in an international cooperation mission with CPAs Without Borders in Senegal."
A promising path with plenty of room for discovery
"I am still not 100% certain of the direction I want to take in my career over the long term. The CPA designation offers so many possibilities; I'm tempted by a number of paths! I currently work at a firm and I really like it. I'm also very drawn to teaching. I'm giving myself some time to explore and choose the most interesting path for me."
Has anyone inspired her?
"Without hesitation, I would say professor and CPA Nicolas Blais at UQTR. He taught the course that got me involved with CPAs Without Borders. His passion, enthusiasm, dedication and numerous achievements make him a real inspiration to others. His approach to teaching accounting is truly unique."
A weakness for financial accounting… and more!
"To me, the most interesting field of accounting expertise is financial accounting, but I also really like everything about audit and assurance. Plus, I loved to demonstrate my tax expertise at university competitions!"
A seasoned scholarship winner
"One of the things that helped me focus more on my studies while participating in a variety of educational student activities was receiving scholarships from the Foundation of Quebec CPAs. These scholarships gave me peace of mind and helped me avoid getting into debt during my studies. I am truly grateful to the Foundation's donors and partners who made that possible!"
Adapting to a different situation
Impact of the COVID-19 pandemic on her CFE preparations
"It was definitely different not being in the same room with my teachers and colleagues. It was harder to communicate and support each other. But I found that this new situation also had its advantages. For example, I could be more flexible because I lost no time in transportation. Thanks to a healthy dose of discipline, I arranged my schedule so that I could make the most of my study sessions, despite the situation."
Writing the CFE in a hotel room
"Before the measures for the CFE were announced, everyone was a bit stressed. However, I think that holding the CFE in hotel rooms was truly a perfect solution. I would say that the conditions were even better than usual, particularly because it was easier to concentrate in your own room. I was very confident that the exam would be well organized and I was not disappointed. Safety kits were distributed and the arrivals of the various groups were spaced out; everything was well planned."
A word about the resilience and adaptability of future CPAs
"This year, everyone was in the same boat for the CFE. We adapted by videoconferencing or studying outside in small groups while keeping our distance. Together, we found great solutions. UQTR also helped us a lot by providing us with an instructor who was responsible for monitoring and reaching out to us periodically to see if we were still doing well despite the situation. That was tremendously reassuring!"
Tips and tricks on how to prepare for the CFE
Planning her study sessions
"By planning my sessions, I could schedule them at times when I knew I would be able to study, but also divide them up equally and keep up my pace. It's also important to know your weaknesses so that you can focus your study sessions on where it matters. For example, in my case, instead of making flash cards about what I knew, I made flash cards about what I didn't know."
Giving herself small rewards
"After a study session, I would reward myself in small ways that were allowed during the pandemic. I would exercise, go for a swim and take some time at my cottage to unwind."
Keeping her breakfast routine during the mornings of the CFE
"Before each day of the CFE, I ate a hearty, yet similar breakfast to what I normally eat. And, of course, I never broke my routine of having a coffee before starting my day!"
A champion with a big heart, even the day before the CFE
"During my exams, I always have something sweet on hand. Since I could make no exception to this rule for this year's CFE, I decided to share my habit with my UQTR colleagues who were taking the examination at the same time as me. The day before the exam, I took a bag of muffins and candy to each of them, while following the physical distancing rules. That kept my mind occupied, because I didn't want to study during the two days before the CFE. For me, it was important to show up to the exam relaxed and since I knew that I had prepared solidly in the months leading up to it, two more days or two less days of studying was not going to change the outcome in any way."
A final word for future CPAs
"When it comes to the CFE, the most important thing is to trust and really know yourself. The CFE is like participating in an endurance sports event, where you have to manage your stress and demonstrate all of your skills at the same time. You have to prepare well for it; it's like a huge marathon, but you need to strike a balance in your preparations. This balance is what allows you to show up for the exam with confidence in yourself and your abilities."
* Information valid at the time of interview