Julie Cardinal, 6 tips on how to successfully prepare for the CFE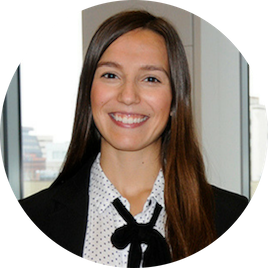 Do you know Julie Cardinal, the candidate who received the highest standing in Canada in the September 2016 Common Final Examination (CFE)? A private person, Julie agreed to reveal a few aspects of her personality and her 6 tips for an effective exam preparation.
At the Permit Presentation ceremony on March 11, 2017, Julie received her gold medal, a CPA Foundation scholarship, a CPA Canada prize, and an honorary certificate.
CFE preparation : 6 tips for success
Have a good notebook with extensive notes that summarize all the subjects.
Time yourself on each question and stick to the allotted time.
Take time to read the case study in order to identify the issues.
Before you start writing, prepare an outline of the requests to be addressed and structures for each.
Revisit case studies to determine what you did well and what you should work on.
Rest and don't do too much! More is not always better.
Julie in a few questions...
What is your proudest achievement?
Ranking first in Canada on the CFE ;-)
What led you to choose the CPA designation?
I wanted comprehensive training covering all business areas which would open doors to a senior management position.
What is your long-term career goal?
To become the CFO of a large company.
What is your favourite treat after a long study day?
Eating sushi with friends.
Who inspired you in your career?
My former boss, Lyne Giroux, who taught me a lot about business and still continues to inspire me to become a career woman.
What was your reaction when you found out you earned the gold metal?
No way... I can't be first in Canada!
What would you like to say to other future CPAs?
As long as you are well prepared for the CFE, you'll pass it.
What is your sure-fire way for managing stress?
Making sure that I've done everything to be ready, that every single item on my to-do list is checked off.
Which area of accounting are you most passionate about?
I prefer audit and financial analysis.
What is a funny fact about you?
I talk really fast!
* Information valid at the time of interview