Training activities

You want to maintain or develop your skills?
With close to 700 training activities offered in accounting, finance, taxation, performance management and management, you will find everything you need at the Order for your professional development, whether you are a CPA or not.

Professional development catalogue
Consult our catalog [PDF] for more information on the activities offered and all the professional development products and services.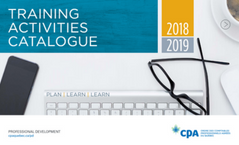 ---

4 types of training activities to meet your needs
FIND A TRAINING ACTIVITY
Choose a training activity according to your interests
Choose a training activity according to your profile
A + for savings
Discover the Corporate passport and the CPA Promo to take advantage of special prices on training activities.
Symposiums
More than a dozen symposiums to stay abreast of new practices and trends in your industry and to network with your colleagues and several experts.
You are a controller?
Learn about the VHP program designed specifically to meet the needs and ambitions of accomplished leaders.
Compulsory continuing education
Recognization of the hours: we make it simple! As of the 2016-2017 season, all training activities of the program are eligible under the Règlement sur la formation continue obligatoire des CPA du Québec and the hours of the Order training activities (except for training activities offered in partnership) will be automatically added to your file.