2018-2019 Ad Campaign
Since its creation in 2012, the Quebec CPA Order has conducted an annual ad campaign to raise awareness of the CPA designation, position the accounting profession as a career of choice among young people, and demonstrate the added value of working with a chartered professional accountant in the business world.
For future cpa
s

"Nous sommes plates" ("We're boring") is the tagline of the Order's latest advertising campaign, created by Réservoir and featuring 6 CPAs whose paths are anything but boring. The campaign aims to remind bright future business people, young leaders and ambitious entrepreneurs that a CPA background opens doors to exciting careers in countless fields, many of which are not immediately associated with the profession.

The campaign includes digital and print display, online video and a social media presence.
Video
Plan média
Print display – University campuses, subway stations, street columns and transit shelters: January to March 2019
Digital – Facebook, Instagram, YouTube, Noovo.ca and programmatic advertising: January to March 2019
CPA jokes
As part of our campaign for future CPAs, we recruited 10 CPAs from different walks of life who agreed to take their best shot at telling some "CPA Jokes". The objective: keep a straight face, or at least try not to laugh, while attempting to make their opponent laugh with a series of jokes about the world of accounting. Their jokes cover everything from taxes and budgets to financial statements!
Not only are CPAs anything but boring, but some of them are downright hilarious. Let's see if our participants are able to give these dad jokes the CPA touch.
All of the jokes are the original work of the agency Réservoir.
This content is only available in French.
FOR THE BUSINESS COMMUNITY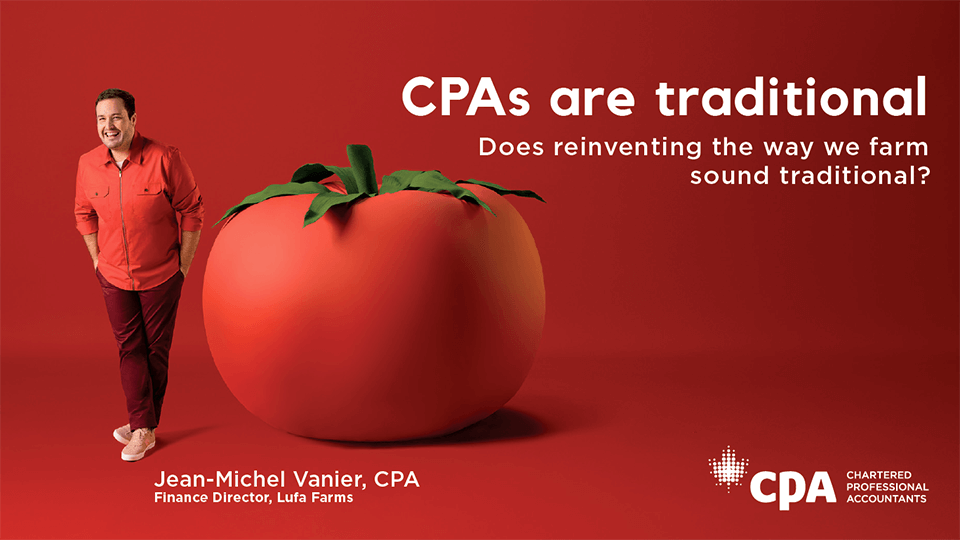 Debunking the myth of the boring accountant is the theme of the most recent national CPA brand advertising campaign. Developed jointly by the CPA Canada National Branding Committee and new advertising agency of record, DentsuBos, the campaign shows CPAs in exciting and unconventional roles, proving that accountants are anything but boring number-crunchers.
The new campaign includes TV, online video, print, digital and social media ads.
Video
Media plan
Television – CTV, CBC News Network, Global and specialty channels: October to December 2018
Digital: October 2018 to March 2019
Billboards: October to December 2018 and January to March 2019
l'indice mc$ween

In addition to a TV spot, the campaign includes print, digital and social media ads. And for the second year in a row, the Order is a partner of the show L'indice Mc$ween, which airs on Télé-Québec.
If you have any thoughts or comments, email us at campagne@cpaquebec.ca.
*Please note that all the present information was valid at the time of the shooting of the campaign.