The national program, it's for you

The national program is one of two pathways to complete the Professional Education Program (PEP) and become a Chartered Professional Accountant (CPA) in Quebec. The 12-to-24-month program is offered on line in collaboration with 2 university partners.
Learn more about the national program in video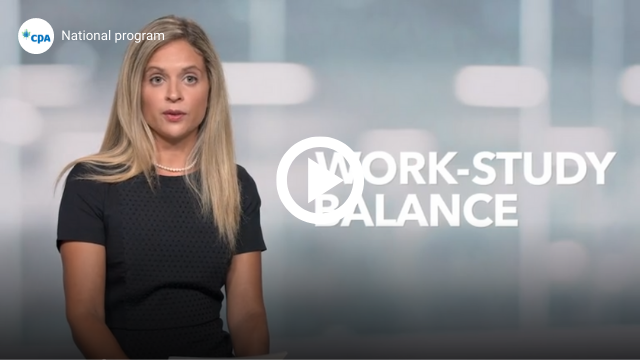 See our video about the national program >
6 reasons to choose the national program
1- Study anytime, anywhere
With the national program's stimulating, easy-to-use online learning environment, you can study whenever it is most convenient for you. In other words, you can decide when it is best for you to focus on your studies and balance them with your job and personal obligations.
2- Work full time while you study
Thanks to the flexibility of the national program, you can work full time in accounting and even acquire your designation faster by gaining months of practical experience while you study. This is an excellent way to immediately consolidate your knowledge with practical experience!
3- Receive individual coaching
Throughout the program, you will be coached by an experienced CPA who is paired with a small group of students (6 to 10 students per module). Your coach will answer your questions in less than 24 hours, submit corrections to you within 4 days and give you detailed feedback on your work. You will be in good hands regardless of the distance!
4- Take the program at your own pace
The national program normally lasts 24 months, but can also be completed in 16 months or even in just 12 months. Whether you are looking for a part-time program or a more intensive experience to acquire the CPA designation faster, this is the ideal program for you.
5- Choose a program that has proven itself across Canada
Did you know that the national program is the pathway taken by most future CPAs in Canada? Like them, you will gain access to quality educational material and comprehensive, state-of-the-art content. Another important consideration: The module examinations you will take in this program have similar conditions to those of the Common Final Examination (CFE). This gives you some useful practice for this important step toward the CPA designation!
6- Earn university credits
Thinking about continuing your studies after you have your CPA designation? The Order's partner universities can grant university credits to students who want to pursue graduate studies. Contact them to learn about their terms and conditions.
Basically, the national program is…
The pathway chosen by most future CPAs in Canada
An online program delivered by the Quebec CPA Order
A part-time program lasting 12 to 24 months
Individual coaching and feedback from experienced CPAs
Offered in French or English

1
1Since the national program is the result of an interprovincial collaboration with CPA Canada and is offered by universities with which the Order has a partnership, this program is still being offered in English.
Other benefits
Assistance in finding a practical experience and a CPA mentor
Access to the scholarship program of the Foundation of Quebec CPAs
Financing at an attractive rate offered by Desjardins
Partnership with Windmill Microlending to support foreign-trained professionals
Same fees for all students, including students from outside Quebec
Want to know more?
Participate in an information session or an event >
Receive news about the national program >
Read our brochure >
View testimonials from young CPAs and future CPAs >
Questions?
Contact us today!
T. 514-288-3256 [1603] 1-800-363-4688
programmenational@cpaquebec.ca