Careers at the Order

When you work at the CPA Order, you are part of a dedicated, professional team that strives every day to fulfill our primary mission of protecting the public. It means that you can count on managers who support you as well as on the expertise of over 200 colleagues to assist our members and future CPAs. You will also take on exciting challenges and enjoy competitive working conditions and benefits, not to mention the right to disconnect.
Our values
Respect
Being considerate and civil, advocating different opinions and ideas and acting with courtesy and discretion.
Excellence
Showing rigor and agility, serving as an inspiration and making a difference through our work.
Collaboration
Working in the spirit of participation and showing solidarity while highlighting complementary expertise.
Living together
Showing leniency and acting with dignity and kindness based on the principles of inclusion and openness.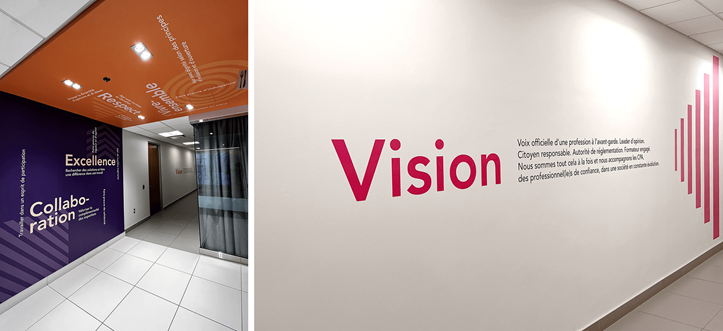 Our watchwords
These watchwords contribute every day to our happiness at work.
Flexibility
Our schedules allow for a perfect balance between your work and personal life. Gone are the days of 9 to 5!
Flexible schedule that can be adapted to your personal situation

100% flexible hybrid working arrangement (at our office at Place Ville Marie or at home)

Reduced schedules (32 hours per week) or compressed schedules (work 10 days in 9)
Personal time
Taking some time to stop and recharge your batteries and enjoy quality time with your family and friends are part of the package.
4 weeks of vacation, 10 statutory holidays and 4 floating holidays per year

Additional paid holidays between Christmas and New Year's Day

Summer schedule (Friday afternoons off during the summer period!)

Sabbatical leaves are possible (unpaid or deferred salary)
Health and well-being
At the Order, we value our employees' overall health. From physical and psychological to financial health, we care about your short and long-term well-being.
Telemedicine and individual or family group insurance plan

Assistance program for employees and their immediate family members

Reimbursement of annual expenses related to the promotion of health and well-being

Group pension plan (where the Order contributes up to 6% of the annual salary)
Development
At the Order, personal growth and development are priorities. Thanks to our various programs, you have everything you need to achieve your full potential.
Various social events, conferences and training opportunities during the year

Internal mobility (lateral and vertical) is highly valued

Leadership development program for managers and professionals

Reimbursement of costs associated with study programs and adjusted work schedules
Our honours
Work-life balance is also part of the package. In addition to holding Remarkable Employer certification since 2015, we are the first professional order to obtain the Concilivi seal, which we earned in 2020, in recognition of our work-life balance policies. Both of these honours show just how much we care about our employees' well-being and are proud of it. We were also certified as an Engaged Workplace by the Regroupement des maisons pour femmes victimes de violence conjugale in 2023.
These honours show just how much we care about our employees' well-being and are proud of it.

Our working environment
Whenever we are not teleworking, we take advantage of our bright, modern and open spaces and revel in the hustle and bustle of downtown Montreal from our offices at Place Ville Marie. In addition to being very close to a wide range of services, restaurants and stores, we have easy access to public transportation and can participate in the myriad of events held for people who work at Place Ville Marie.
A few revealing figures and testimonies
85%
85% love their position
89%
would recommend working with us to a friend or family member
89%
consider us to be an outstanding employer
90%
enjoy working with us
Source: Quebec CPA Order, 2022 Remarkable Employer Survey
Dès mon arrivée, j'ai tout de suite ressenti la bienveillance et la chaleur humaine (même à distance!) dont on m'avait tant parlé.

Catherine
Conseillère aux communications
 Pour moi, les valeurs de l'Ordre collent à mes valeurs d'inclusion et de diversité. C'est ce qui fait que je suis tombée en amour avec l'Ordre.

Wislyne
Directrice du développement des affaires