Annual General Meeting

LOCATION
Saint-James's Club, Saint-Denis Room
1145 Union Street, Montreal
(map)
SCHEDULE
10:30 a.m. to 12:30
2018-2019: A solid year, and proud of it
Buoyed by the enthusiasm that has driven it since its creation, the Order has continued to protect the public, showcase the role of CPAs and exert its influence, both in the public sphere and in the professional realm. The Annual General Meeting on September 6 offered a great opportunity for an overview of our major achievements.
Watch the webcast >
Read the word from the Chair and the President >
To watch the webcast
If you have not already done so, go to the webcast hosting site and register by following the steps described below.
From your desktop, tablet or mobile phone, go to the webcast hosting site.
Enter your

CPA member number

(not that of your legacy order) and your

last name

to connect to the platform reserved for CPA members.
Complete your registration by filling in the required information.
Join the meeting live and ask your questions in the space provided.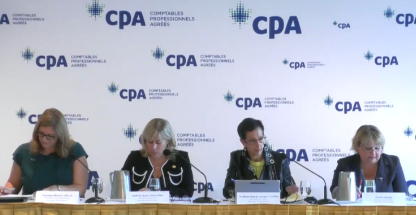 Relevant documents
Questions?
Email us at secretariat@cpaquebec.ca.