Administration and holding of property and sums of money belonging to third parties
As a CPA, do you administer or hold property or sums of money belonging to third parties?
If so, you must
report it
in your annual declaration to the Order and complete the
accountability report
.
Depending on your situation, you may also have to open a trust account.
The Regulation aims to protect the public when sums of money or other property are entrusted to a CPA whether in a professional or personal capacity.
You are subject to the Regulation if:
you administer, whether compensated or not, property or a group of properties belonging to a third party; and
you hold property entrusted to you by a third party,
more specifically in the following circumstances:
liquidator of a succession1
activities of an accounting firm1
mandatary (curatorship, mandate in case of incapacity, family mandate)1
person having power of attorney
trustee
treasurer/signatory on a bank account for a board of directors or an NFPO (syndicate of co-owners, foundation, sports club, etc.)
payment of source deductions, income taxes, royalties, etc. on behalf of a client1, 2
Special provisions apply if you are also:
a lawyer or notary3
an investment dealer1
a trustee in bankruptcy1, 4
You are not subject to the Regulation if:
you administer sums of money belonging to your employer (for example, as controller or director of finance) and sign cheques.
---
Notes
Performing such mandates in the practice of the profession requires holding a trust bank account.
A member who does not hold a trust bank account must demonstrate the measures put in place to ensure that the sums of money held for clients are secure.
Members who already comply with the Regulation respecting accounting and standards of professional practice of advocates of the Barreau du Québec are also subject to the Regulation except if the professional services they provide to their clients are not included within the practice of the CPA profession. Therefore, if they hold a trust account, they are required to report it to the Order in their annual declaration. The Order will then notify them if it decides to suspend the obligation to produce an accountability report.
Members who already comply with a similar regulation under the Bankruptcy and Insolvency Act and report to the Office of the Superintendent of Bankruptcy Canada (OSB), and who are trustees in bankruptcy with a firm or who work as sole practitioners are subject to the Regulation, since the professional activities of a trustee in bankruptcy are included within the practice of the CPA profession. A simplified accountability report form is acceptable.
---
Questions?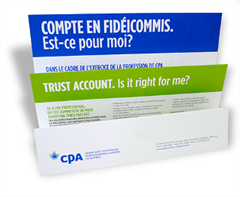 Consult our brochure [PDF] or our Frequently Asked Questions [PDF] or email us at redditiondecomptes@cpaquebec.ca.
Webcast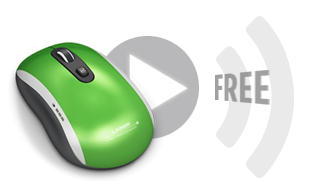 Watch our webcast (in French only) on the Regulation respecting trust accounting for everything you need to know about CPAs' obligations with respect to this regulation.