Fellow title

The title of Fellow of the Order, designated by the initials FCPA, formally recognizes those members who have rendered outstanding services to the profession, or whose achievements in their careers or in the community have earned them distinction and brought honor to the profession.
Call for nominations
In order to submit your nomination, you must carefully complete the nomination file.
To help you prepare your file, please consult the sample nomination file [PDF] (in French only).
Only complete files will be submitted to the Selection committee.


Annual nomination period
Period ended


Evaluation by the Selection Committee
From December 17, 2018 until January 31, 2019
Nomination
February 22, 2019


Official ceremony during the Soirée des Fellows
May or June 2019
Most common mistakes
Here are the most common mistakes when presenting a nomination.
Disregarding the evaluation criteria

You may be surprised to learn that some of the files presented to the Selection committee do not meet all of the evaluation criteria. This does not do justice to the proposed candidate since the file is incomplete.

Failing to highlight the candidate's performance

It is very important to clearly highlight how the candidate's performance sets him or her apart.

Assuming that the members of the Selection committee are aware of all professional, community and charitable organizations in Quebec and elsewhere

While it is important to highlight the candidate's volunteer activities, it is equally important to assist the Selection committee by providing information on the organization itself.

Quantity over quality

The Selection committee expects the nomination file to highlight the fact that the candidate's outstanding contribution is common knowledge, i.e. that the acknowledged achievements make the member a recognized leader. It is therefore better to focus on quality than on a long list of "normal" achievements. For example, being a member of several organizations is not as significant as chairing the board or ensuring an organization's viability.
Questions?
Contact us by email at candidatureFCPA@cpaquebec.ca.
---
2018 Recipients
In 2018, the Order's Board of Directors awarded the title of FCPA to 18 exceptional members. They were honoured during the last Soirée des Fellows on May 12, 2018.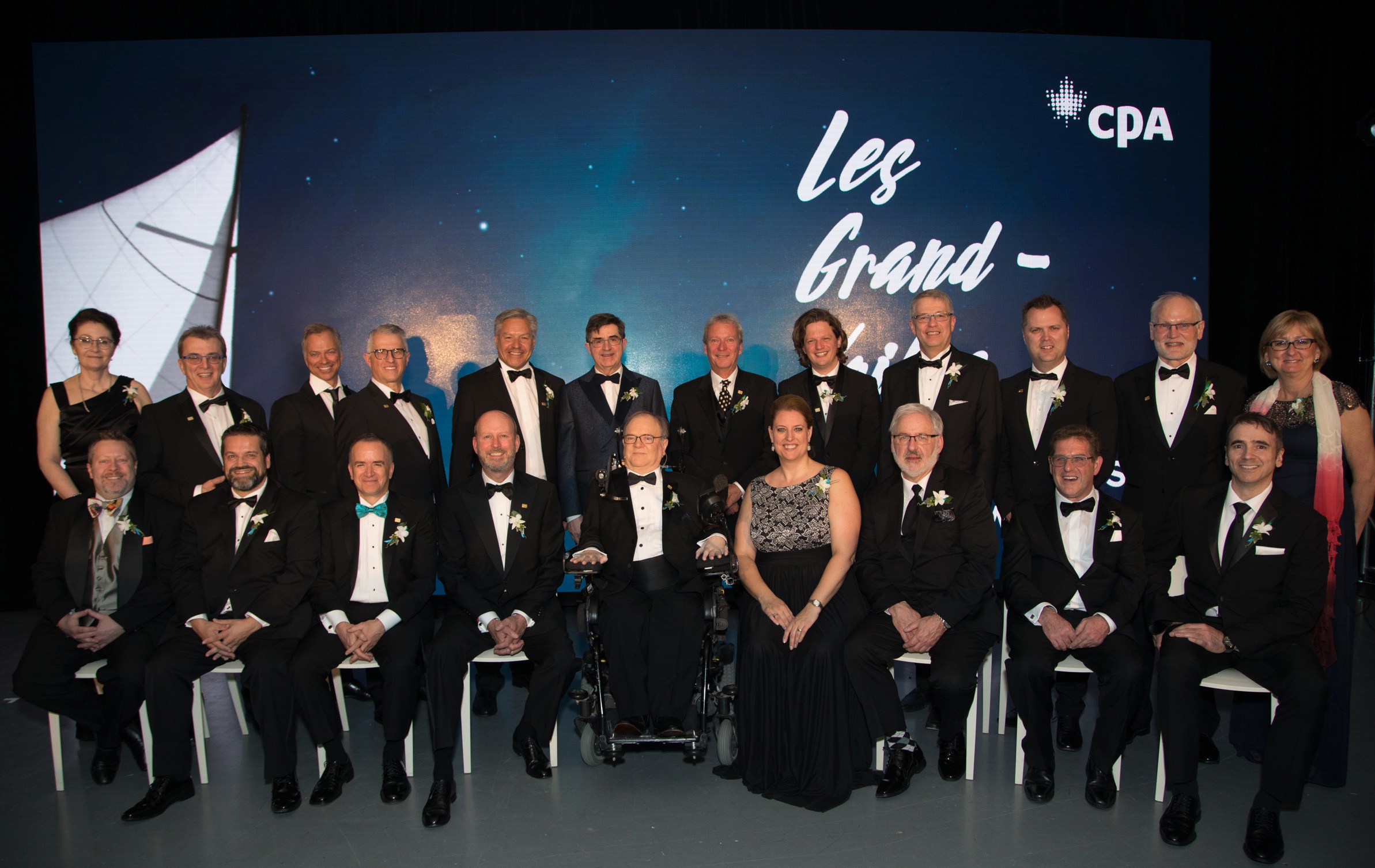 First row (from left to right)
Michael Newton, Martin Bernier, Carl Gauvreau, André Dugal, Chair of the Board of the Order, René Dallaire, Lifetime Achievement Award recipient, Geneviève Mottard, President and Chief Executive Officer of the Order, François Dion, Gilles Henley and Paul Gauthier

Second row (from left to right)
Francine Turmel, Michel Mathieu, Pierre Laporte, Camil Tremblay, Jean Vincent, Eric Brassard, Alain Dugal, QIC Award of Merit recipient, Pierre-Yves McSween, Guy Fauteux, François Filion, Yvon Bouchard and Thérèse Roy
Learn more about them:
The information included in the biographical notes was valid when they were initially published and is written in the language of the recipients.