Amylie Louis-Seize, an auditor at a regional firm and admirer of the Bas-du-Fleuve region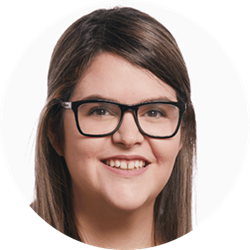 After studying history for a year at Université Sherbrooke, CPA Amylie Louis-Seize decided to go back to her first love and finished her studies in accounting at ESG UQAM. She became involved at various levels in CPA student committees during her studies and volunteered at a few university competitions, which enabled her to build a network of contacts across Quebec.
After a few years of practicing in Montreal, she accepted an auditor position at Mallette in Rimouski and took off with her two cats, Gryffondor and Gustave!
Why did you decide to obtain the CPA designation?
"Starting at a young age, I realized I had a weakness for numbers when helping my mother do the accounting for her organization. That's why I enrolled in accounting at ESG-UQAM. I knew it was the field for me from my very first classes! There are so many career opportunities. My designation has made it possible for me to work in a magnificent region!"
What do you like most about your job?
"The proximity! Local SMEs do not have the funds to hire their own CPA to work in-house. That means we are resource people for these companies and not just the auditors whom they are obligated to see once a year.
Plus, my work gives me a chance to do things that CPA auditors don't usually do. I work with HR on recruiting and even organize events for my colleagues."
What is the biggest advantage of working outside major metropolitan areas?
"The biggest advantage is your work-life balance! At 5 p.m., I turn off my computer and I'm a stone's throw from the river. Bye bye traffic! And I have the good fortune of seeing the most gorgeous sunsets in Quebec!"
* Information valid at the time of interview