Practical experience declaration process
Declaration of start or end of practical experience, writing of reports, mentor or line supervisor modification: the CPA practical experience is entirely managed in your online file. Refer to the pages of this section for more information.
In short, you must:

Practical experience completed before the registration with the Order
If you have begun a period of practical experience before registering with the Order, you must report it in your online file once your registration is completed. Therefore, it is recommended that you keep a detailed job description of the position to facilitate the authorization.
The practical experience months completed will be authorized retroactively based on the following rule: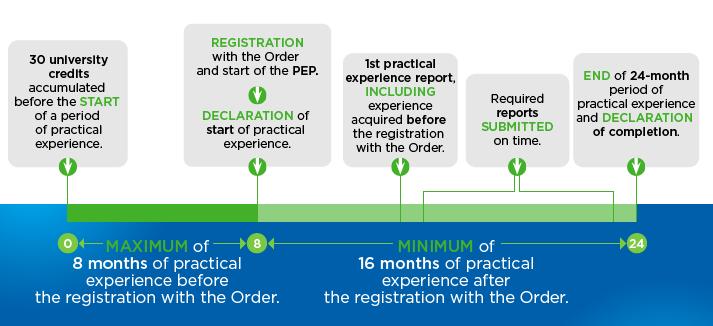 Things to remember:
You must have accumulated at least 30 university credits for the period of practical experience to qualify.
A maximum of 8 months of practical experience completed before the registration with the Order may be recognized. The declaration of this practical experience must be done in your online file.
You must report this experience in your first practical experience report.