Alexandre Bilodeau, from professional athlete to CPA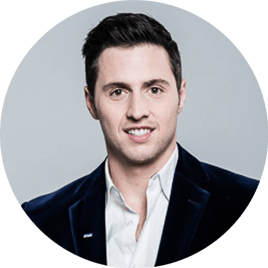 After a highly decorated sports career, Alexandre Bilodeau, a two-time Olympic gold medalist in freestyle skiing, took the plunge and became a CPA. Why did he choose a career in this profession instead of another?
Interview with the former mogul champion.
"CPAs receive their training from a very practical and solid program that leads to a recognized and highly sought-after professional designation in the market."
- Alexandre Bilodeau, Senior Advisor, Deal Advisory Services, KPMG
Which accomplishment are you most proud of?
Balancing my studies, training and career was a huge challenge for me. I am extremely proud of the fact that I succeeded in making the transition from athlete to young professional. Many athletes put their career plans on hold to focus on their sport. I wanted to find the right balance between all the different areas of my life.
Why did you choose the CPA profession?
When I was at CEGEP, I was torn between accounting and finance. I was fortunate enough to meet several professionals from the business world who really helped me choose the best academic program for me. My friends and family also helped me see the business side of the CPA designation, an aspect that I found very interesting!
What is your long-term career objective?
Since I'm just starting my career, my objective is really to learn more about it every day! I am still very open to new opportunities that come my way, because I never want to stop learning and growing.
Did any of your friends or family members inspire your professional path?
I was fortunate enough to have several mentors who guided me in my choice of studies and career, but my father in particular, who is an FCPA, was the one who inspired me. He also passed on his solid work ethic and great attention to detail to me.
What would you say to young people who dream of becoming CPAs?
Take the time to learn more about the CPA profession, discover all of the options available to you with the CPA designation. This profession opens doors in all fields! I had the opportunity to meet several presidents and financial managers from various companies. And you know what? The vast majority of them are CPAs!
Don't get discouraged by the practical experience period, which is longer than in other related fields. It allows you to acquire the skills you need to practice the CPA profession while you gain practical experience. You arrive in the job market with 2 years of experience, which is quite something!
Do you have a fail-safe trick for dealing with stress?
I think it is essential to learn how you behave in situations of stress and how you react to it. That way, you can learn to manage it better.
My trick? Make a mental list of everything I have to do. If I know that I prepared the best I could, I just have to push forward and keep my composure! I use this same trick before a sports competition.
What small reward did you used to give yourself after a long day of studying?
I would go have a beer with friends! Otherwise, there was nothing better than a night of Netflix to relax me.
By staying disciplined and not leaving things to the last minute, I could enjoy a little fun and downtime every now and then
* Information valid at the time of interview