Tommy Ellis, a creative CPA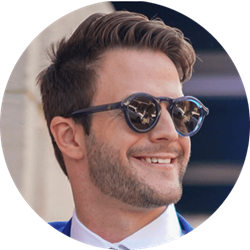 Tommy Ellis is a CPA with a totally atypical career! He began studying accounting in a bachelor's program at Université Laval, where he was involved in student associations, before deciding to pursue his CPA designation. At the beginning of his career, he worked as a business consultant for a large firm in Quebec City, but the experience wasn't exactly his thing.

So Tommy seized an entirely different opportunity and decided to work as an operations manager of an advertising agency in Montreal. Today, he is a partner at the agency who is involved in every area of its business, which makes him a truly creative accountant.

Fun fact: Tommy was a fairly good student at elementary school, but that did not stop him from having the career of his dreams!
Why did you decide to obtain the CPA designation?
"Like a lot of 19-year-old students, I didn't know exactly what I wanted to do in life. I had a knack for numbers at school and was interested in business and management. Basically, I thought the CPA designation would open more doors after university than other specializations, and I wasn't wrong! The CPA designation is very well recognized by employers."
What do you like most about your job?
"I am now the co-owner of an advertising agency: strange accountant, eh? What I like about my job is that it is never the same. In the same day, I might create advertising concepts, work on media strategy, check our finances, take care of human resources, etc.
Another significant feature of the CPA designation: If I ever wanted to change my career, there will be many opportunities. CPAs are in higher demand than ever and our training makes it possible for us to play many different roles in a company!"
If you had advice to give, what would it be?
"If you are good with numbers and don't hate working with them, you should really think about getting your CPA designation! It doesn't mean that you can't work in other fields, but it will open A LOT of doors in the short, medium and long term.
Keep in mind that many CPAs choose other sectors over public practice, and around 10% of Canadian CPAs are entrepreneurs like me!"
* Information valid at the time of interview